UV Glass Glue Is Permanent Bonding, Crystal Clear And
Bonds Glass To Glass, Glass To Metal And Glass To Plastic
In Minutes. This Is Premium Quality Glue That Meets Most Manufacturing Specifications And Is Easy To Work With.
And We Offer SPECIAL PRICES That Beat Anything On The Net!
Check Them Out Below!
---
Here is the Perfect answer to Bonding Glass to Almost Anything Permanently. To find the correct Glue to Bond Glass to your object just check out the Chart below. Also if you are using any one of the Mark UV Stencil Maker Units (Mark 560, 680 or 1000) now to make your Glass Etching Stencils you can use it to "Harden" or "Cure" the New UV Super Glass Bond Glue in minutes. Nothing could be easier and your bonds are permanent. Read on for complete info. Also we offer two other Ultra-violet Bonding Units Below which do an absolutely great job in minutes and the are at Special Prices.

If you are at all serious about glass etching or plan to become serious in the future, you need to think hard about Ultra-Violet Glass Glue. Gluing in a glass-to-glass application is a very important task in the world of glass etching and is an art in and of itself. The only way to attach award blanks to bases, nameplates to bases, mirrors to glass, etc. is to use Ultra-Violet Glass Glue which is Easy to Use and a Permanent Bond can be done in Minutes that is almost impossible to break.
How Does It Work?

The first difference you may notice about UV Super Glass Bond Glue is the word Ultra-Violet. This means that the glue hardens (or "cures" to use technical terminology) under Ultra-Violet light. We use and supply Ultra-Violet Glass Glue, which cures via long wavelength (365 nanometers) UV light. This is the safest form of UV light, as opposed to medium wavelength (used in tanning booths) or short wavelength (used as a germicide).

Since UV light is found naturally in our environment from the sunlight, it may be possible to cure this glue in the sun on a very bright day but it may take a while. It is not recommended since it takes much more time than using a U.V. light source. Therefore It is Best that Ultraviolet glue be cured under an Ultra-Violet lamp and any one of our Mark Series UV Stencil Maker Units will work as mentioned above or a U.V. Bonding Unit shown below.

Technical Specifications

(1) For Glass-to-Glass and Glass-to-Mirror applications we prefer to use UV-GG692 Glass Glue. It has a clear color, low odor and low water absorption, and works like a charm in minutes and is absolutely permanent.

(2) For Glass to Metal use UV-GM689

(3) For Glass to Plastic use UV-GP641

Plastics include acrylic, ABS and

Polycarbonates.

Physical Properties (uncured glue):

Base Resin: Modified Acrylated Resins
Solids: 100% - No Solvents
Appearance: Viscous Liquid - Clear
Refractive Index: 1.49
Flash Point: Over 200 Degrees Fahrenheit
Shelf Life: One Year
Toxicity: Low, Mild Skin Irritant
Viscosity: 2,187 cps

See Prices Below

Special Offer On Ultra Violet Glass Glue

UV GG692 Glass Glue is available in Trial Size 1/4 oz. bottles for Testing Purposes.

1/4 oz. will cover approximately 160 square inches and Comes in a Re-closable Plastic Bottle With Applicator Brush.

Special Price Today - $4.95 - Order Now!

SPECIAL PRICES TODAY!

1 Ounce Bottle Covers Approximately 675 Sq. Inches

Only $16.95

Order Now!

2 Ounce Bottle Covers Approximately 1350 Sq. Inches.

Only $22.95

Order Now!

4 Ounce Bottle Covers Approximately 2,700 Sq. Inches.

Only $39.95

Order Now!
U.V. Super Glass Bond Glue

SPECIAL DISCOUNT PRICES!

ITEM NUMBER

DESCRIPTION

PRICE
ULTRA-VIOLET GLASS GLUE BONDING UNITS
Use These Fast Glass Glue Bonding Units to Speed Up Your Production and Guarantee A Perfect Bond Each Time. Bonds In Minutes!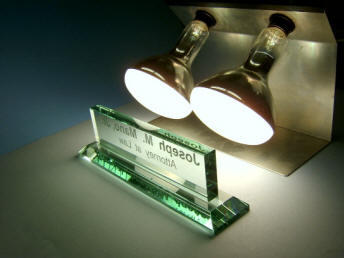 Single Unit With One U.V. 160 Watt Bulb

Only $69.95 Order Now!

Double Unit With Two U.V. 160 Watt Bulbs

, (As Shown at Right)Order Now!

Double Unit With NO BULBS (Use Your Own)

Only $29.95

Order Now!
Safety Concerns
UV Super Glass Bond Glue is overall a safe product to use. There are two minor safety issues that you should know about, however:

1. Since we are dealing with UV light, make sure to take the proper precautions. The Best way is simply do NOT look at the UV Light any more than you have to. Just set everything up, turn on the UV light and then look away. It does NOT hurt your eyes to look at it once in a while just as you would the Sun. If you are unsure then it is best to wear UV protective sunglasses. If you wear prescription glasses or contact lenses chances are you already have UV protection.

2. Do not use UV glue to secure any object that will be exposed to a lot of water. Water will degrade the adhesive strength of the glue over time, causing the bond to fall apart. So don't use UV glue on your aquarium (use silicone for that) unless you enjoy vacuuming water out of your carpet.
How to Use Ultra Violet Glue
UV Super Glass Bond Glue is Very Easy to use. There are 5 steps involved:

1. Clean and dry all surfaces that will be bonded. Stay away from cleaners that contain silicone, as they will leave a film on the surface of the glass and interfere with the bonding process.

2. Mark out exactly where the pieces are to be bonded together. Take a lot of care when performing this step; it is very hard to remove once dry. If you have to, the best way to remove a bond is with heat. Temperatures of 270 Degree Fahrenheit will soften the bond.

3. Apply a modest amount of UV Glass Glue to one of the pieces to be bonded. Firmly press the two pieces together until the adhesive has spread and started to ooze out the edges of the bond. Make sure that this oozing action takes place.

4. Double check that all pieces are in the exact location that you would like them, then go ahead and place the pieces under your UV lamp and expose for 3 to 5 minutes. Please test the time before you try it on an item you would like to keep.

5. Clean up the glass with a razor blade and glass cleaner when finished. The adhesive should have oozed out of the bond and hardened a bit. This is normal and can easily be removed with a razor blade.

Ultra violet glue will create a super strong, almost unbreakable bond. As mentioned before, the only way to soften the bond is either soaking in water or extreme heat.
Jade Glass Awards | Jade Glass Ornaments |
Jade Glass Christmas Ornaments | Etching Supplies Price List
UV Glass Glue | Glass Etching Starter Kit | VIN Etching Kits
440 Stencil Maker | 560 Stencil Maker | 1000 Stencil Maker

Wine Glass, Coffee Cup, and Beer Mug Etching Instructions
Home Page | What Is A Dura-Film Stencil? | How to Make Stencils |
Glass Etching Business
How to Etch Glass | Dip 'N Etch Instructions | Resist Gel Instructions | Glass Desk Nameplates
Acrylic Paint Stencils | Fabric Paint Stencils | T-Shirt Stencils
---
Email Us Or FAX At 1-360-985-2996

P.O. Box 200 / 500 Wilcox Road
Salkum, WA 98582
Email - Click Here
Phone: 1.800.775.0797
Fax: 1.360.985.2996
*NOTE: These stencils are not compatible with any sandblasting technique.
If you own a UV stencil maker and you like glass etching; you might want to take a look at our kits that allow you to make your own custom rubber stamps with artwork you make on your computer.
You Can Also Use These Custom Dura-Film Stencils to Permanently Etch Multi-Tools and Leatherman Tools Quickly and Easily with the Etch-O-Matic Tool Marking Machine.
Copyright© 1995-2007 Martronics Corporation
Etch-O-Matic
® is a Registered Trademark of Martronics Corporation
Shopping Cart Software By 1ShoppingCart.com