Inexpensive, High Quality, Easy to Etch Jade Glass Ornaments!
Now You Can Etch These Ornaments With YOUR OWN COPY
Or Artwork In Just Minutes Using Your Computer And
Our New Dura-Film Stencils (Shown On Another Page)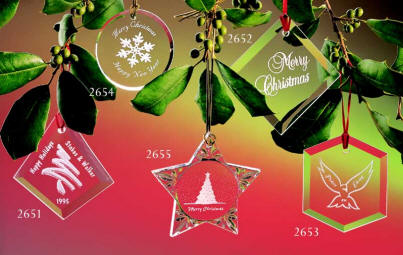 You Asked For It! We Have Just Received A Large Order Of
Beautiful Jade Glass ORNAMENTS In Seven Different Shapes!
We Did NOT Get As Many As We Wanted So The Supply Is Limited.
We Have Put Them On Special As Promised So Get Yours Today.
It Will Have To Be First Come-First Served So Don't Miss Out. Order Today!
---
ORDER NOW WHILE QUANTITIES ARE AVAILABLE!
Special Prices While Supply Lasts

On Special Now At Only $4.19 Ea.

In Boxes Of 12 Pieces (All The Same Ornament, Including Gold Ribbon)
On Special Now At Only $39.99 Per Box.
Bell - G112

3-1/8" x 3-1/2" x 1/8"

Box of 12

Stocking - G117

2-7/8" x 4" x 1/8"

Box of 12

Cross - G125

3 1/2" x 4 1/2"

Box of 12

Diamond - G119

4" x 3" x 1/8"

Box of 12

Tree - G116

3-1/4" x 3-3/4" x 1/8"

Box of 12

Star - G127

3-1/2" x 3-1/2" x 1/8"

Box of 12

Arch - G111

3-1/4" x 3-3/4" x 1/8"

Box of 12

Moon - G128

3-1/4" x 3-3/4" x 1/8"

Box of 12

House - G122

3-1/4" x 3-3/4" x 1/8"

Box of 12

Octagon - ONG115

3-1/4" x 3-3/4"
x 1/8"

Box of 12
Do you want us to do the etching for you? Simply e-mail us your black and white line drawings and we will etch as many ornaments as you like.
Pricing for etched ornaments is as follows:

1-5 identical ornaments:
$9.95 per ornament
6-10 identical ornaments:
$8.95 per ornament
11-50 identical ornaments:
$7.95 per ornament
More than 50 identical
ornaments:

$6.95 per ornament
Contact us at sales@etch-o-matic.com to discuss your requirements.
TO CHECK OUT MORE ORNAMENTS CLICK HERE
Jade Glass Awards | Jade Glass Ornaments |
Jade Glass Christmas Ornaments | Etching Supplies Price List
UV Glass Glue | Glass Etching Starter Kit | VIN Etching Kits
440 Stencil Maker | 560 Stencil Maker | 1000 Stencil Maker

Home Page | What Is A Dura-Film Stencil? | How to Make Stencils |
Glass Etching Business
How to Etch Glass | Dip 'N Etch Instructions | Resist Gel Instructions | Glass Desk Nameplates
Acrylic Paint Stencils | Fabric Paint Stencils | T-Shirt Stencils
---
Email Us Or FAX At 1-360-985-2996

P.O. Box 200 / 500 Wilcox Road
Salkum, WA 98582
Email - Click Here
Phone: 1.800.775.0797
Fax: 1.360.985.2996
*NOTE: These stencils are not compatible with any sandblasting technique.
If you own a UV stencil maker and you like glass etching; you might want to take a look at our kits that allow you to make your own custom rubber stamps with artwork you make on your computer.
You Can Also Use These Custom Dura-Film Stencils to Permanently Etch Multi-Tools and Leatherman Tools Quickly and Easily with the Etch-O-Matic Tool Marking Machine.
Copyright© 1995-2007 Martronics Corporation
Etch-O-Matic
® is a Registered Trademark of Martronics Corporation
Shopping Cart Software By 1ShoppingCart.com