The following Tips & Time-Saving Solutions have been compiled from years of artwork inquires.
Some of the most asked questions include:
Special Computer Software Needed

Best Fonts & Sizes

Help with Developing Stencils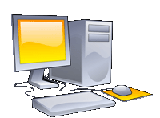 No Special
Computer Software Needed
You can quickly make your artwork or text copy on any computer, with your existing software.
Print your artwork or text copy in Black & White Settings - Best Quality - dark black is best for your transparency.
Time-Saving Hint: Hold your transparency up to the light to make sure you don't see any light through the dark black type areas.

Font Tips
NO Color - NO Grayscale - NO Half Tones
Keep your font with consistent DARK lines.
Note: If you are sending us your artwork, we can accept these formats:
| | |
| --- | --- |
| BMP | EPS |
| GIF | JPG/JPEG |
| PDF | PSD |
| TIFF | TIF |
Time-Saving Hint: The smallest font for making good stencils is
ARIEL 6 pixel BOLD.

Stencil Making Tips
We have included two video tutorials - although - for editing purposes - the developing process is filmed quicker than normal.
The videos are quick-loading - How To Make a Stencil & How To Mark Knives (which shows stencil making).
For the developing process, follow these steps - repeating if necessary.
Exposure Time is 2 Minutes.
Developer

- Go over your stencil in the developing solution, counter-clockwise, then clock-wise with the white sponge.

Make sure to do this process for

1 Minute

on

BOTH SIDES

of the

Stencil

.

Rinse

with warm water until not slimy - pat dry with a paper towel or hair dryer.

Hold up to the light to see if it's completely see-through.
Repeat if Necessary.
Save your Developer - it's Reusable!
Time-Saving Hint: You will begin to FEEL the MESH on BOTH SIDES of the Stencil With Your Fingertips as it develops.
Video Tutorial
How To Make Dura-Film Stencils
How To Mark Knives in Seconds
---

P.O. Box 200 / 500 Wilcox Road
Salkum, WA 98582
Email - Click Here
Phone: 1.800.775.0797
Fax: 1.360.985.2996
Copyright© 1995-2005 Martronics Corporation
Etch-O-Matic
® is a Registered Trademark of Martronics Corporation
Shopping Cart Software By 1ShoppingCart.com