Lets You Start Etching Glass Immediately Without
Having To Buy An Ultra-Violet Stencil Maker!
---
Now You Can Start Etching Glass Treasures
Without Buying The Entire Kit.
Simply buy this Economical Starter Kit and have us make your stencils for you until you feel confident that glass etching is for you. Here is how it works. You simply create your own artwork, designs, or copy and send it to us by email. We make up the stencil or stencils for you and send them to you. You then etch anything glass such as ornaments, wine glasses, tumblers, pitchers, mirrors, awards, nameplates, beer or coffee mugs, etc. Then give them as gifts or sell them.

When you are confident with your glass etching ability then you will get a $10.00 Discount on any of the Mark U.V. Stencil Making Units (Mark 440, 560, 680 or 1000) you choose by sending us the number on a Special Discount Certificate that is enclosed in each Glass Etching Starter Kit shown below when you purchase a Stencil Maker.
NOTE: This coupon is NOT valid for custom stencils that we make for you.

Special Offer!
New Glass Etching Starter Kit Only $14.95
Glass Etching Starter Kit Contents:
1 - 2 oz. Bottle Glass Etching Cream.
1 - 2 oz. Bottle Stencil Activator / Adhesive.
1 - 4" Polyethylene Squeegee.
1 - Package Of Q-Tips
1 - Choice of One Free Ornament Below
1 - FREE Generic Stencil for testing.
1 - Tube of Rub 'n Buff ($3.95 Value)
1 - Complete Instructions.
1 - FREE $10.00 Discount Coupon On future
Order of any Stencil Maker. (See Below)

Also, Now As A SPECIAL OFFER
You Can Choose One FREE Ornament from
The List Below To Put In Your Starter Kit.


HEART SQUARE HEXAGON

NOTE: You may wish to order a custom stencil, if so, prices and sizes are shown below.

Special Price - $14.95 Complete Starter Kit
____________________________________________

Prices On Custom Stencils Made With Your Artwork:
Two Important Things To Remember:
(1) You Can "Gang" Your Artwork On One Stencil (Like The Stencil Shown On The Top Of Our Home Page) And Then Cut Individual Stencils Out Of The Large One.
(2) Each Stencil Will Make Hundreds Of Etches So It Is Very Economical!
| | | |
| --- | --- | --- |
| Size | Price Each | Duplicate |
| 4" X 5" | $19.60 | $9.60 |
| 5" X 6" | $24.40 | $14.40 |
| 6" X 8" | $33.00 | $23.00 |
| 8 1/2 " X 11 " | $54.50 | $44.50 |
For more Info or to order just call us at 800-775-0797.
This Glass Etching Kit Is Used With Custom Glass Etching Stencils
We Make For YOU With Your Designs or Artwork.
IMPORTANT NOTE: You simply send us your Designs, Copy or Artwork in Very Black Outline Ink (no Halftones or Grey areas) and the EXACT SIZE you want. We can NOT Reduce or Enlarge your copy at these prices. We will make one or more stencils for you EXACTLY like your copy and send it to you by mail or UPS within two to three days (depending upon how busy we are). This way you can start etching without buying a UV Stencil Maker. For more Info just call us at 800-775-0797.
---
YOU Will Receive A $10.00 Off Coupon With The
Purchase Of A Glass Etching Starter Kit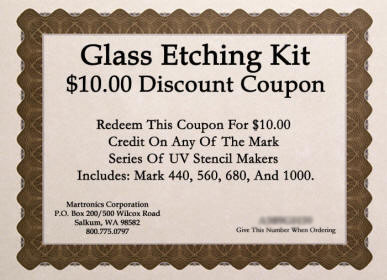 You will receive in your Glass Etching Kit a $10 Coupon that you can use on the purchase of any of the Mark Series of Stencil Makers. Just tell us the coupon number in the bottom right corner of the certificate when calling, or place it in the comments/special instructions section of the order form if ordering online and you will get your $10.00 Discount on any Mark 440, 560, 680 or 1000 Stencil Maker.

This coupon is not valid for custom stencils that we make for you from your artwork.
---
Jade Glass Awards | Jade Glass Ornaments |
Jade Glass Christmas Ornaments | Etching Supplies Price List
UV Glass Glue | Glass Etching Starter Kit | VIN Etching Kits
440 Stencil Maker | 560 Stencil Maker | 1000 Stencil Maker

Wine Glass, Coffee Cup, and Beer Mug Etching Instructions
Home Page | What Is A Dura-Film Stencil? | How to Make Stencils | Glass Etching Business
How to Etch Glass | Dip 'N Etch Instructions | Resist Gel Instructions | Glass Desk Nameplates
Acrylic Paint Stencils | Fabric Paint Stencils | T-Shirt Stencils
---
Email Us Or FAX At 1-360-985-2996

P.O. Box 200 / 500 Wilcox Road
Salkum, WA 98582
Email - Click Here
Phone: 1.800.775.0797
Fax: 1.360.985.2996
*NOTE: These stencils are not compatible with any sandblasting technique.
If you own a UV stencil maker and you like glass etching; you might want to take a look at our kits that allow you to make your own custom rubber stamps with artwork you make on your computer.
You Can Also Use These Custom Dura-Film Stencils to Permanently Etch Multi-Tools and Leatherman Tools Quickly and Easily with the Etch-O-Matic Tool Marking Machine.
Copyright© 1995-2007 Martronics Corporation
Etch-O-Matic® is a Registered Trademark of Martronics Corporation
Shopping Cart Software By 1ShoppingCart.com